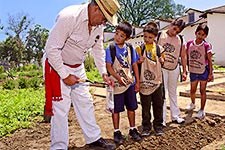 Think western San Gabriel Valley; we don't often travel as far east as Covina or Pomona. But the attractions listed below are worthy ones:
Henry Huntington made some of the millions that built this institution by outfitting Los Angeles with the largest public train electric railway system on Planet Earth. Alas, the Pacific Electric is long gone, but transit travelers can still take the 79 to the galleries and gardens that bear his name. (At least if there isn't a big race at Santa Anita that day; see this posting for details.) It's worth the trip, especially for kids ages ten and up. You'll find 14,000 plant species here in more than a dozen gardens, and rare books and art ranging from Gainsborough's Blue Boy to a 1410 edition of Canterbury Tales.
If you continue a bit farther northeast on Huntington Drive via the 79, you'll soon reach the intersection with Baldwin Avenue, and a fifteen minute walk to the Arboretum. So what's an arboretum? The dictionary defines it as a "place where many kinds of trees and shrubs are grown for exhibition and study." The Arboretum is that, at the very least. Aside from an unparalleled assortment of plant life, Arboretum visitors can see an 1840 adobe, the 1885 Queen Anne cottage, and a restored Santa Fe train depot. One warning: don't feed the peacocks, which are plentiful here. Those beaks are sharp!
You teach fourth grade, California history is your social science unit, and your kids think Felipe de Neve and the pobladores are an MTV music video. What to do? You could trek south to Mission San Juan Capistrano, but the San Gabriel Mission is closer and offers nearly as much of that priceless Authentic Mission Flavor to grade school groups. The MTA 78 and the 487 will get you here; figure on a half hour bus ride from Union Station, and a fifteen minute walk to the Mission. If you come on a Saturday afternoon -- the only time it's open -- you can also visit the next door Ramona Museum.
A romantic, a spendthrift, an idealist, and a gambler: the legendary Pio Pico was all of these things, and certainly one of the most celebrated Angelenos of Ramona era Southern California of the nineteenth century. In the 1850s he built this 22 room country house in present-day Pico Rivera. The Whittier Narrows earthquake shut it down, but it is now open again for visits and tours. We can come too, via the City of Montebello 10.
The modest intention of this amazing little museum is to show how life was lived in Whittier a hundred years ago. The building looks modest, but if you step inside you'll find some of the most captivating exhibits of any museum in Los Angeles. The web site's virtual tour offers a preview, but remember, it looks much more impressive in 3D. For TransitPeople, another easy ride on the Montebello 10.
Page 10: West L.A.