12/18/04: Odds are good that you've never heard of Heritage Park, even if you bleed Dodger Blue, can spot errors in the Fodor city guide, and think of Huell Howser as a tourist. In fact, odds are good that you've never heard of it even if you're the one Huell calls first when he gets lost. This park could use a press agent.
It's in Santa Fe Springs (Eh? Here.), occupies several blocks northwest of Florence and Norwalk, and is announced to the public by essentially nothing. Walk, ride, cycle or drive past on Norwalk Boulevard, and you'll think you're passing an office park. The #111 bus driver had never heard of it. But it's there, trust me.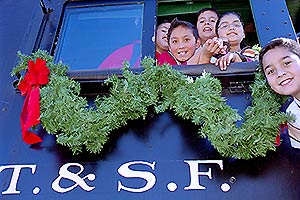 A century and a quarter ago, a well-to-do farmer built a ranch here; the L.A. Times called it the "showplace of the county." Since then it has been transformed into a kind of California history theme park. Attractions include:
a Tongva (aka Gabrielino) native American exhibit, with a ki large enough for five families and a sweat lodge
a carriage barn museum, offering a glimpse of nineteenth century frontier life
a gen-u-ine A.T. & S.F. steam locomotive, which kids are permitted to climb aboard (but not fire up and drive back to school, even if arriving with TransitPeople)
Is Heritage Park the equal of the Natural History Museum, the aquarium, the zoo or LACMA? No, of course not. But it's a great place for a California history lesson, and is the one piece-of-cake educational destination in our line-up for teachers from Bell Gardens and new participant Garfield Elementary.
Groups from these schools often contend with seriously heavy transit traffic journeying east on Florence, particularly when boarding at the Blue Line station. (Although the new Incredible Hulk 'Compo' Rapid Buses deployed on Florence have helped a bit.) But Florence buses are almost never crowded as far east as Bell Gardens or Garfield.
Travel groups from these schools need merely stroll up to Florence, catch an every-half-hour-on-weekends Whittwood Mall-bound 111, choose from one of many available seats, and ride a leisurely twenty-five minutes to Florence and Norwalk. A cakewalk ... and this park is an unusually pleasant place to spend an afternoon, too.
Caveats, just in case you try this on your own:
Get on the Whittwood Mall-bound #111 heading east. The Norwalk station bus won't take you far enough.
Do this on a Saturday. The Whittwood #111 runs every half hour then, but only once an hour on weekdays.
Plan to visit between noon and 4:00; that's when the Carriage Barn and railroad exhibit are open.
Is this a good trip for Wilton Place and other mid-Wilshire schools? No way. For Miramonte? May-bee, although you're in for a fifty minute ride and generally tougher sledding on the Florence #111 than a Bell Gardens or Garfield group. For other South L.A. schools? Naw.
But for East L.A. schools: just possibly, if can walk south to Olympic or Telegraph and if you're willing to risk a trip on the once-an-hour-más-o-menos 362. If so, your ride should take a half hour or less.
Photos? Here you go, from our first-ever trip here with Bell Gardens.
---
11/20/04: At last, an Arboretum trip! Undaunted by the prospect of two hour travel times each way, Graham Elementary teacher Noelle Shaw booked our first-ever trip to the 127 acre Arboretum and Botanic Garden, across Baldwin from the race track in distant Arcadia.
She's unlikely to be the last. Teachers, take a look at the Life Science content standards and see how easy it is to match up this trip with the curriculum. Better still, the Arboretum offers tours to school groups.
Excellent tours. Our guide today was Bob Weber, who taught sixth grade for a mere thirty-nine years and seemed to know the 4,000 plus plant species here like a teacher knows her plan book. The kids were downright enthralled for close to three hours; next time we'll stay longer, if the Arboretum is willing.
Drawbacks? The travel time. It is possible to get most of the way here via the Gold Line, which offers great views and is undoubtedly far less crowded than MTA would like it to be -- but from the end-of-the-line Sierra Madre rail station, you need to be a transit planning summa cum laude to figure out a kid-friendly route to the Arboretum.
You can take the 268, but this is a once-an-hour bus, not recommended for trips of our type. (Feel like conducting an impromptu curbside spelling bee with twenty fidgety kids for one hour if you arrive five minutes late or the bus doesn't show? I didn't think so.) It may be wiser to skip the Gold Line for this destination and take the 79, but steel yourself for a fifty minute bus ride from downtown.
Do you teach at Miramonte, 93rd or another South L.A. school? This trip will be a serious shlep, no matter how you get here. Teach in the mid-Wilshire or East L.A.? Your shlep should be shorter and gentler.
Teach near Huntington Drive? This trip is highly recommended. The 78-79 routes put the San Gabriel Mission, the Huntington and the Arboretum a mere half-hour distant; all you've got to do is waltz down to Huntington, stand on the appropriate corner and wait for your happy fate.
Photos? We've got photos ... and as you'll see from the Gold Line shots, we did take our chances with the 268 on the way back.
---
10/23/04:You teach fourth grade. You want to visit a mission. An Amtrak Surfliner ride will get you to San Juan Capistrano, but must you really stray so far to take your students to one of the missions Father Serra built?
Consider instead a ride on the 78 bus to Mission San Gabriel in (where else?) San Gabriel. It's smaller than the Mission San Juan Capistrano, but is more relevant to locals; this is where the original forty-four pobladores gathered before governor Felipe de Neve led them west to found the new Pueblo de Nuestra Señora la Reina de Los Angeles in 1781.
Tours are sometimes available on Sundays. Gwen Raya and her El Sereno Elementary students traveled here for our inaugural San Gabriel visit on a Saturday, which, yes, meant a lot of the what-the-heck-is-this-let's-read-the-plaque type wandering around done at unfamiliar destinations. But the mission grounds include a museum, so it's tough to go far wrong while here.
Better yet, the Ramona Museum of California History is right around the corner, and they will accommodate tours, gladly and generously. Guide and Native Son Fran Hubert volunteered nearly an hour to show the kids around. This museum is small, but it's a labor of love, and is well worth a visit.
Transit: the every-thirty-minutes #78 is easiest. The 78-79 follow the same route northeast out of L.A. to Huntington and Maycrest. The #79 continues to the Huntington Museum and the Arboretum (see above). The #78 swerves south on Las Tunas, and passes within a fifteen minute walk to the Mission. You could take the 487 here, but that runs every forty-five minutes.
South L.A. teachers: a loooong haul. East L.A. teachers: a bit less of a long haul, although we might have to take you west on Whittier before heading east on the #78. Mid-Wilshire teachers: much more reasonable. You can ride the Red Line downtown and transfer to the #78 on Olive.
Teachers near Huntington Drive? It's a cakewalk. Ms. Raya's class needed ten minutes to walk to the bus stop from school and another twenty on the #78 to get to San Gabriel. Eeee-zeee.
Of course, we have plenty of photos.