10/30/06: November/December Trip Ideas
(1) The November/December 2006 Trip Ideas list is now online. Click and it's yours.
(2) Just in time for Halloween: a bushel of new shots in the 'Latest Photos' section of the photo galleries.
---
10/4/06: Observatory reopens 11/3/06
At last, we've got a date, courtesy of the handsomely redesigned Griffith Observatory web site and a story in the Los Angeles Times: Friday, November 3, 2006.
That's the good news. The not-so-good news is that the observatory won't offer a "full program of curricular-based school programs until the beginning of the 2007 - 2008 school year."
Noteworthy is the every-ten-minutes shuttle linking the observatory to the Hollywood-Highland Red Line station. If this shuttle is capacious and continues to run frequently after the reopening crowds thin out, we'll have a much easier transit route here than anticipated.
The observatory is likely to be seriously crowded for months after the reopening, so we probably will want to wait to book this one until the hubbub dies down. (Remember trying to get into the Getty Center in early 1998?)
Do you like sea lions? Of course you like sea lions. Don't kids often choose the sea lions as the favorite part of an aquarium trip?
Showing off his dental work in the shot above is Parker, a 'juvenile male' sea lion at the Aquarium of the Pacific. ('Juvenile male' means that the 600 plus pound elder male sea lion Miller is still way bigger.) Parker recently deigned to play with our young visitors, which Parker will do if Parker feels like it. The photo galleries tell the story.
Here you'll also find a 'Latest Photos' section. Some 'Latest Photos' will be incorporated into other galleries. Others will perish beneath the Delete key. Check 'em out while they're up.
---
8/19/06: PSA Taping, Central Library
Can the big phone call from Oprah or Huell be far behind? An amiable video crew taped our familiar jerseys during a tour and book reading at the Central Library. The crew hailed from the local office of international TV Azteca, which next month teams with the library to support a month long reading program commemorating Latino Heritage Month. TV Azteca's "PSA" – broadcast insider's lingo for public service announcement – will help publicize this library event.
As for the tour and book reading: the Central Library offers these on Mondays, Thursdays and Fridays, at 10 and 11 a.m. Groups meet at the Flower Street entrance, spend a half hour touring the grounds with a volunteer docent, and then wrap up in the KLOS story theatre inside the childrens' wing, where a librarian reads stories.
The tour/reading combination is offered free, and is universally and justly popular among the teachers who travel with us. Like staff at the Natural History Museum, Aquarium and other venues who deal frequently with kids, childrens' division librarians know what does and doesn't play well with elementary schoolers. Plus the Wells Fargo History Museum is right up the hill, so we sometimes can book a before or after WFHM trip, too.
Visit the photo galleries, for shots from this trip, plus a couple of library shots from July.
---
8/14/06: Thank you, Ahmanson Foundation!
(1) They contributed in 2004, and now again in 2006: thank you, Ahmanson Foundation, for generously supporting our field trip program for Los Angeles children. When we ooh and aah over the sharks at the Aquarium and the dinosaurs at the Natural History Museum, we will think gratefully of you.
(2) "Where does Santa Claus live?"
If you ask this question and no eyes roll, your students are age-appropriate for a trip to Kidspace, a one year old museum in Pasadena's Brookside (Rose Bowl) park. Check out the listing at the updated Pasadena destinations page and decide for yourself.
This is going to be a long trip for many of our participants, although TransitPeople knows a secret short cut from the 180/181/780 stop in front of the Norton Simon. (Although not a short cut that requires crossing back yards and crawling under fences. Sorry, kids ...)
(3) The gray-haired online 'public transit' lesson finally includes a few paragraphs about paratransit: shared ride taxis, jitneys, van shuttles and so forth.
For grown-ups: the GPS rides-and-rider matching referred to is employed by Google Lab's Ride Finder. (Google is also fiddling with a transit trip planner.) The vehicles listed now seem to belong to big van and shuttle companies. But if Anyrider could use GPS and a co-operative service to buy a seat from Anydriver ...
Incidentally: the second graders pictured here are not really using the computer to book a paratransit trip. Second graders swap desserts and fool around in the lunch line. They don't use GPS to book rides to the airport. (And besides, their parents could take them to the aiport aboard a Flyaway bus. $2 each way for kids. C-h-e-a-p.)
(5) The September/October 2006 Trip Ideas list is online, and ready to be siphoned off to your hard disk.
As has been noted for postings of trip ideas past: please don't expect to see our jerseys at a fraction of these events. The list offers ideas, but teachers decide what fits best for their classes and curricula.
(6) Interested in a Los Angeles River tour? FOLAR can provide tours to groups visiting the Los Angeles River Center, a fifteen minute walk from the Lincoln Heights Gold Line station. Students are almost certain to see ducks, stilts and swallows, and might see egrets, herons and cormorants, too.
Book this one and be a pioneer; we haven't visited yet.
---
6/24/06: Minmi the Ankylosaur
Who: a puppeteer in an exceptionally convincing costume, and her handler, from Australia's Melbourne Museum.
What: a dinosaur act, and a good one. Minmi the ankylosaur, pictured here fleeing the paparazzi, walks, growls menacingly, eats (sort of), and is thoroughly capable of pulling the wool over the eyes of kids seven and under. Fourth graders won't be duped, but they'll still like the show.
When: Four daily showtimes. See the link.
Where: Natural History Museum.
Why: If you've ever taught second grade, you already know!
An easy fit with a visit to the NHM's dinosaur gallery. Minmi will be on hand to menace patrons through June 29.
---
6/19/06: Thanks, Lantz and Pergo Foundations!
(1) The checks arrived on the same day: a new grant from the Walter Lantz Foundation, and a first ever check from the Pergo Foundation.
Walter Lantz may not be a household word, but if you're old enough to click the scroll bar, you'll know the name of the bird he drew: Woody Woodpecker. (Even transit planners have heard of Woody Woodpecker.) And the Pergo Foundation supports charities big and small throughout Southern California.
Thank you, kind-hearted donors, for supporting our treks with the kids.
(2) Interested in booking an aquarium trip for one of their special weekend festivals? (E.g., Festival of Human Abilities, Divers Weekend, Earth Day, Cinco de Mayo) Want an advance preview? Click here for photos of the Pacific Islander festival on June 10. The shots are at upper right.
---
5/30/06: July/August trip ideas
Online, and yours for the clicking: July/August 2006 Trip Ideas.
---
5/27/06: Taper Auditorium matinee
Once a month or so – or twice, when TransitPeople's lucky stars are in alignment – the Central Library hosts a kid-and-family-friendly Saturday afternoon matinee in their swanky, 200+ seat Taper auditorium. The matinees usually start at 2:00 and last about an hour. They're simple, they're free, and they're often pounced upon by teachers who book trips with us.
Why?
No duds. Our groups have taken in plenty of these matinees, and the kids have never booed, hissed or hurled lunchables at the onstage performers. The library staff knows how to pick 'em. Consistent hits.
It's at the Central Library. Eighty years young, endowed with one of the country's largest book and periodical holdings, including a mere quarter of a million books for children. If we can't come up with a good educational field trip here, maybe it's time to write that last big lesson plan and eBay the pocket protectors.
Easy to get to. The 7th Metro station is two blocks south. The 18, 53, 55, and 720 lines pull up across the street.
The Taper matinee for May featured José Luis Orozco. Three teachers signed up within two days, and we could have booked a fourth. This performer is well known and seriously p-o-p-u-l-a-r among teachers and families of elementary schoolers. Click through to the photo galleries, and visit vicariously.
Mr. Orozco will be at Feria del Libro at City Hall next Saturday, June 3.
(Interested in future Saturday afternoon library matinees in the Taper? Here's the link, which you're honor bound to share only with teachers, parents, other Internet users, and people who read.)
---
5/13: Watts Towers & Pasadena Playhouse
One weekend, two promising venues:
Watts Towers Art Center: Eighty odd years ago, an Italian construction worker bought a chunk of land in a whistle stop called Watts and started to build. "I had in mind to do something big," explained the worker, years later, "and I did."
Building something big took thirty-four years. Today Simon Rodia's Watts Towers is a California state park, with tours and workshops available to school groups. A ten minute walk from the 103rd Street Blue Line station gets you here, which makes this an easy trip for Miramonte, Graham and other South L.A. participants.
Pasadena Playhouse: Teachers want their students to experience live theatre. They can see it at the Stella Adler in Hollywood, a healthy baseball throw from the Highland subway station. They can see it at the Falcon Theatre in Burbank, which is a tougher trip for us, given the infrequent service of the #96 and #152 lines that can get us here.
And they can see it at the venerable Pasadena Playhouse, which regularly hosts Saturday morning matinees tailor made for children, from Parson's Nose productions. A Playhouse trip fits snugly with an after-the-show trek to the Norton Simon museum, only a few minutes west via the runsallatime 180/181.
Photos, lots of photos, in the photo galleries.
---
4/29/06: Aquarium of the Pacific
"Excuse me, are you Wendy Greuel?"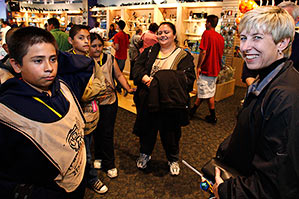 Yes, indeed she was: city council representative for Los Angeles' second district, enjoying an aquarium visit with family on an overcast Saturday afternoon in April. Ms. Greuel graciously fielded a few questions from the kids during this serendipitous meeting in the aquarium gift shop.
Transit riders: Ms. Greuel is the chair of Los Angeles' Department of Transportation. LADOT spells D-A-S-H, for most local straphangers. We are frequent patrons of the Chesterfield line, when ferrying Miramonte kids to and from Exposition Park.
You'll find two more shots of Ms. Greuel linked above, plus two from an excellent behind-the-scenes tour provided earlier to this group by Agi of the education department. (What's the big tank in the last shot, with the water frothing to and fro? The Tropical Pacific gallery, viewed from above.)
Elsewhere in this humble corner of the Internet: the photo galleries now include shots from a recent trip to the Japanese American National Museum in Little Tokyo, and a new album dedicated to our first ever tour of the Los Angeles Superior Court. (Yes, they let us in and let us go out afterward.)
---
4/11/06: May/June trip ideas
(1) The May/June list of 'special event' trip ideas is now online, for teachers up for a weekend trip with their homework monitors, line monitors, line leaders, paper monitors, scissors monitors, pencil monitors, board monitors, book monitors, class library monitors ... and for parents who merely crave a fun, educational place to take young monsieur and mademoiselle on Saturday or Sunday.
As noted below, you won't see us at all or even many of these events -- but everything on this list is likely to be a good bet for families with elementary school age children.
(2) We have one Earth Day weekend event on the calendar now, but just might get another one for this: Earth Day at Debs Audubon Center, twenty minutes with the pedometer from the Southwest Museum station. Please visit the Debs site for details.
(3) The photo galleries have grown a bit thicker, with new shots of the kids at Debs and at the NHM.
---
3/30/06: Natural History Museum docents
Would even an Escalante or an Esquith dare to compete with steely-fanged dinosaurs for the attention of grade schoolers? The gray-shirted gentleman in this photo did, and even lived to tell the tale.
The swatch of orange apron (barely visible at his waist) identifies him as one of the Natural History Museum's docents. On Wednesday through Friday mornings, from 9:30 a.m. to noon, you'll find these good-hearted volunteers on hand to answer questions and lead youth groups on highlights tours around this seriously large museum.
Want your little people to get a highlights tour? Arrive at 9:30. Youth groups book the volunteers on a first come, first served basis. The tours run thirty to forty minutes; once done, docents stroll unhurriedly among the sloths and sauropods until noon, ready to be lasso'd by a new class. If you spot one, speak up!
We used to be able to book guided tours with NHM staff, and wish we still could, but these impromptu Q&A sessions with volunteer docents are a terrific substitute. Docents-to-be attend a year's worth of classes before qualifying for an orange apron of their own.
NHM photos new and old now occupy the lower left corner in the photo galleries. You'll find a few more shots in 'Odds and Ends,' too, and photos from the Tropical Reef Habitat Presentation at the Aquarium of the Pacific.
---
3/8/06: Earth Day trips
Interested in booking a mid-April Earth Day trip this year for your squad of little angels? Good news: a couple of trip possibilities are now online:
Earth Day at the Aquarium: Perhaps that should be Earth Days: the festivities are from Saturday, April 22 through Sunday, April 23. The aquarium's upcoming events page tells the story.
Eco Maya Celebration: Festivities this year are in MacArthur Park, hollering distance from the Westlake subway stop. If you want to precede or follow up the festival with a library or Olvera Street trip, it's easily done from here. Just put in the request when you book the trip.
---
2/21/06: New photo galleries
The budding young Riveras pictured below were caught in the act of creation at the Museum of Latin American Art's Afro-Latino Heritage festival, held at their Sixth and Alamitos Long Beach campus on Sunday, February 12. With funding help from Target, MoLAA now sponsors a family-oriented festival on the second Sunday of every month.
On February 12, the festivities lasted from noon to late afternoon. We found crafts, art projects, live music, and plenty of festival-goers on hand to take in the goings-on.
Perhaps best of all, the price was right: admission to these second-Sunday-of-the-month family shindigs is free. Check the MoLAA calendar online for future offerings.
(The California African-American Museum offers a similar festival schedule, but so far, we haven't had a booking.)
If you'd like to see what the festival was like, be invited to have a look-see at the revised-yet-again photo galleries. The page linked here now consolidates the 'lighter side' and vertical galleries mentioned in an earlier entry. (Try and try again, as the saying goes.)
---
2/13/06: March/April trip ideas
Linked below is a hard copy of the March/April trip ideas list e-mailed to teachers. Many parents follow our program for tips on where to take the family on weekends. This list is provided primarily for their benefit.
Please don't expect to see our troops at more than a fraction of these events. A teacher may learn of a trip offering through TransitPeople, but is under no pressure to book a trip that doesn't match curricular plans or class preferences. If past experience is a guide, fewer than fifteen percent of these events will get TransitPeople sign-ups.
(Parents: the Experience L.A. web site is a great resource for information on local special events.)
---
2/3/06: Thank you, David Bohnett!
We are the grateful beneficiaries of a new, multi-year grant from the David Bohnett Foundation, which supported us through their giving program for the environment and mass transit.
Do we qualify? Kids from schools that book frequent trips with us often know more about local bus and train routes than neighborhood grown-ups. We don't just walk the talk: we ride it, too.
---
1/19/06: Wells Fargo History Museum
Step off the subway at Pershing Square. Take the Fourth Street escalator to street level. Face west and look up.
Nestled among the skyscrapers crowning Bunker Hill is a bit of heavenly manna for the elementary teacher in search of a California history field trip: the Wells Fargo History Museum on Grand Avenue. We visit often, but not as often as we might if more teachers knew about it.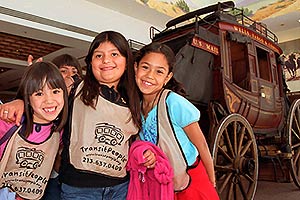 What's here:
A genuine nineteenth century Concord stagecoach. If your California roots go back far enough, it's likely that great-great-grandpa would have offered a bit of gold dust never to lay eyes on one of these things again. In the 1850s, he paid a king's ransom to ride to California in a stagecoach just like it – caked with dirt flying through the window, sandwiched between other Westward Ho! types, vertebral discs ca-chunking over every rut, log, and boulder in the road.
A replica of a nineteenth century banking office, complete with wind-it-up grandfather clock, a telegraph (Morse code!), banker's desk, and what teachers used before copying machines: a nineteenth century copying press.
A mini-theatre, for introductory videos
A play stagecoach. This is the one the kids actually get to clamber inside and make happy fools of themselves in. (Teachers can get in, too. We won't tell.)
Exhibits related to gold, panning for gold, the nefarious Black Bart and other highway robbers, and other aspects of California life back in the day.
The last is one of the most important. Six years of experience with nearly thirteen thousand kids have shown that a good tour of an adequately equipped exhibit can surpass an unguided visit to a spectacularly equipped exhibit. The California History Hall at the Natural History Museum offers more than the Wells Fargo History Museum, and the NHM gallery interpreters are the best in the business, but budget woes have made it virtually impossible to get a tour at the NHM. Wells Fargo History Museum tours usually can be arranged, and the guides are excellent. They know how long to talk to kids and what they'll pay attention to. You won't have to stare menacingly at yakkers in the back row.
Wells Fargo sponsors the history museum, of course, but teachers needn't fear encountering too much commercial content here. No one has ever tried to sell the kids an IRA or a VISA account. You should, however, be aware of a couple of caveats:
This trip doubles as a phys ed lesson, as you're going to have to make like the Donner Party to get here from the Pershing Square station. It's called Bunker Hill for a reason, and the WFHM sits on top of it. The re-opening of the Angels' Flight railway will make the trek much easier, but Angels' Flight isn't operational now.
The WFHM is open weekdays only. If you arrive on a Saturday, you can look at the stagecoach through the storefront window. That's it.
Open Court&copy teachers: Grade 1 Things that Go and Journeys, Grade 2 Our Country and its People, Grade 3 Money (of course!!), Grade 4 Dollars and Sense, Communication and A Changing America, Grade 5 Heritage, Making a New Nation, Going West, and Journeys and Quests.
A trip here matches up well with all these units, and the museum can provide pre and post materials, too.
Addendum: The hike from the Pershing Square station isn't quite so tough a calorie burner if, from the Fourth and Hill exit, you (a) walk west on Fourth to Olive, (b) ascend the escalator at the northwest corner of Fourth and Olive, (c) cross California Plaza and the Water Court to Grand and then the WFHM.
The slideshow now includes a shot of some happy escalator ascenders in 2005. A tip of the transit pass to trip leader Perias Pillay for first suggesting this route.
---
1/17: Trip Leaders & Teachers photo album
The home page slideshow now includes a separate photo album of some trip leaders and teachers who travel with us most frequently. If you know where to look, that is, and after reading this, you will:
(1)On the transitpeople.org home page, look for the little navigational box at the bottom of the slideshow:
(The technical term for a box of this type, incidentally, is 'dealie' or 'thingy.')
(2)Click on it, and you'll get the menu. No need to adjust the monitor: the trip leaders and teachers really are that stunning.
---
1/9/06: 2005 Contributors
With last year's calendars already gathering dust in recycling bins, it's time to thank some of the foundations that contributed to our humble cause in 2005. An all-volunteer program can stretch a donated ducat a long, long way, but some expenses won't disappear.
So, without further adieu, these are the foundations that support our trips to the Aquarium, the Natural History Museum, the Central Library, the Science Center, and everywhere else we go:
•S. Mark Taper Foundation: See the fascinated child in the photo below? He's inspecting a specimen at the Cabrillo Aquarium's new Exploration Center, which opened in 2004. A major donor: the S. Mark Taper Foundation, which supported TransitPeople in 2001 and, we're happy to say, again in 2005.
You'll find the generous footprints of this foundation far and wide in Southern California. It's been awhile since our last visit to the mini aquarium under the merry-go-round on the Santa Monica Pier, but it's still there, and the S. Mark Taper Foundation recently chipped in for a new microscope lab there, too.
•Lark Ellen Lions Foundation: Attorney Tom Himrod introduced us to the Los Angeles Host Lions in 1999, when TransitPeople was a mere stripling. They contributed our first-ever foundation grant that year, and have donated every year since. You'll have to take my word for it: they are a simply terrific bunch of people. The Lions Club International is merely the largest service organization on earth.
•Good Works Foundation: Visit the links page of their very nice web site and you'll spot us between the Surfrider Foundation and the Friends of the Stuart Collection. This Santa Monica foundation has supported us three times since 2002. Anyone with the indisputably good taste to combine hexadecimal #A45606 sepia and hexadecimal #CC9900 burnt orange must be good people, no? (Excuse inside web site coders humor; sorry. Your webmaster is mildly envious.)
•Flagg Foundation: This is a hands-on foundation, with a special interest in youth organizations. A youth organization we definitely are, and so the Flaggs joined us on several trips in 2001, including a zoo outing that nearly (but not quite) stranded several groups in the middle of nowhere, due to a late transit detour. Thank you, dear foundation, for supporting us once again.
•UPS District Grant: Yes, they have a foundation, and support nonprofits like ours. The next time you see one of those dark brown delivery vans, please think of us.
---