12/23/09: Big Friendly Giant at Stella Adler
For the fourth year in a row, the Stella Adler Studio in Hollywood invited TransitPeople to a series of live theatrical performances for the holidays. The 2009 offering: a special stage rendition of Roald Dahl's The Big Friendly Giant.
(An ever-so-slightly well known kids' book, for those of you who haven't darkened the doors of a classroom in awhile.)
Seventeen teachers representing eighteen classes signed up, pretty much filling one of the Stella Adler's two in house theatres for the performances on December 3, 4, 10 and 11. A total of 340 children attended.
Here's what's sad:
Of those 340 children, roughly three quarters -- roughly; this isn't the Gallup Center -- saw the first theatrical performance of their entire lives. A few classes included kids fortunate enough to have visited the Stella Adler with us in 2008 for Hansel & Gretel; for that lucky minority, Big Friendly Giant was the second-ever play.
But for most everyone else, it was a first theatrical production, ever. If you remember occasional matinees in the school auditorium in your growing-up years, well, you're the product of another era. Most elementary schools don't have the money to host such fare anymore. "Actors" are people who sell stuff on TV; "stage" is a long vowel dictionary word.
Sharon Jakubecy played Sophie, the story's heroine. Angelo Schuurmans played the Big Friendly Giant. Vanessa Herrera was the Queen of England. Raul Vasquez, Zina Pistor, Patrick Garahan, Aura Colin and David Ott also performed. Please click on the photos above, if you'd like to see shots of our December 3 trip.
How good were they?
Put it this way:
The show was approximately what you'd expect from a world class acting academy in the de facto capital of the United States film industry: simply excellent. Out-of-towners pan Los Angeles for bad air and bad traffic, but rarely for a lack of acting talent. We have never seen a less-than-excellent play at the Stella Adler, and it's unlikely that we ever will ... but it would be kind of nice if it weren't the only play these kids get to see before they graduate.
* * * *
For those who haven't heard of her:
Stella Adler was an actress and acting teacher, who founded the Stella Adler Conservatory in New York City in 1949. Her pupils included Marlon Brando, Robert de Niro, and Peter Bogdanovich. The Los Angeles web site is here; the New York City web site, here.
---
10/27/09: TransitPeople on Time Warner Cable
• Faithful readers of these News & Announcements pages here and abroad (and, who knows?, perhaps elsewhere in the Milky Way, although we've yet to notice any web site hits from extraterrestrial IP addresses) may recall that reporter Ben McCain and videographer Gino Salerno first joined our troops in 2007, during a visit to the Los Angeles Zoo. The footage thus collected aired on Time Warner Cable's SoCal News, and is still available at the SoCalShooter youtube channel.
(For you not-so-faithful News & Announcements readers: feel free to take a short break to view this clip. As you'll see, we're all much better looking now, and more articulate.)
This last October 9, Ben and Gino joined us again during a trip to the Aquarium. If you'd like to see some exceptionally happy second graders meeting divers, touching sharks and learn a little more about why our program matters as much as it does, please click here to see the video, or on the photo above.
The video will air on Headline News on November 12. We don't have an air time yet, so you'd better take the whole day off from work to be safe.
• If all goes according to plan, Los Angeles' rail system will include eight new stations and six more miles of track on Sunday, November 15, when the Gold Line Eastside Extension opens to the public. The announcement is here, the overview page here and a big .pdf of the system map, here.
Any new local rail opening is a big deal to us (although we probably won't want to book trips to the now accessible-by-rail Evergreen Cemetery, even for Halloween). Stay tuned.
---
10/17/09: Tours at LACMA and Watts Towers
• If contemplating LACMA as a TransitPeople trip destination, good news is yours: schools participating in our program can book guided tours of California's largest art museum directly through us. Browse the list of available tours, choose the one that fits best, provide three dates, and TransitPeople can do the rest. Ee-zee.
LACMA school tour groups enter the museum at 10:00 or 11:00, considerably earlier than the usual weekday 12:00 noon opening time, which makes a transit field trip here far more feasible for classes traveling from South and East Los Angeles. Better still, you get to walk with and listen to someone who really knows the art and how to introduce it to children.
Many thanks to docent council coordinator Julie Feibelmann, for helping to make this arrangement possible.
(How about if you teach in Simi Valley, stumbled onto this page via Google, and want to book a LACMA school tour the regular way? The page you want is this one. The school tours request form: here. Please think good thoughts about us while riding the yellow bus in.)
• If you visit the Watts Towers, you've got to go inside the gates. Have to. Simon Rodia's artwork just isn't the same when viewed from afar.
In years past, we've booked guided tours that allowed us inside-the-gates access, followed by a video on Rodia's life and a kid-oriented crafts project in the adjacent art center. The city has been busy renovating the towers and the inside-the-gates tours haven't been available for awhile, but they're book-able again now. Thank you, Watts Towers staff!
* * * *
And finally, a public service announcement:
According to an October 15 article in Science Daily, an impact off the coast of India -- and NOT near Chicxulub on the Yucatan peninsula -- may have done in the world's dinosaurs some sixty-five million years ago.
As we haven't ridden the Transitway buses any farther south than San Pedro -- a bit of a long haul from Chicxulub -- you may wonder why this news matters to us.
Well, it doesn't. But it does matter enormously to the flocks of dinosaur-crazed primary students now watched over by teachers likely to visit this news page.
Chicxulub: out, according to Science Daily. Shiva basin: in. The kids will want to know.
---
7/29/09: Exhibits soon to close in Expo Park
• Butterfly Pavilion at the Natural History Museum, and Identity: an Exhibition of You and Science in Toyland at the Science Center. Those are the three, and all are slated to close mas o menos within the next month in Exposition Park. If you want to cavort with the mariposas, see what you'll look like in thirty years and play scientist with a bunch of toys, your last chance looms nigh.
You've been advised. See the web sites linked above for attraction-specific final days.
A TransitPeople video! The clip linked above1 is more of a puzzling-out-how-to-use-the-camcorder exercise than a completed production of any sort, but it does train the limelight on someone who richly deserves a place in it: docent Sara Hanan of the Central Library, leader of a hundred odd tours for kids in her ten years of volunteer service there. You'll spot a few, err, rough edges (to be very charitable about it) if you watch this clip, but also will learn a bit more about Ms. Hanan's work.
As this page explains, Ms. Hanan and other volunteer docents lead elementary school tours at 10:00 and 11:00 a.m. on Mondays, Thursdays and Fridays. Groups begin with a half-hour stroll around the library grounds, and then finish up with thirty minutes of storytelling with a childrens' lit librarian.
(You may hear the saga of the wide-mouthed frog during the storytelling session; it's a staff favorite.)
1 re-uploaded after a bit of polishing on 8/2/09.
---
7/5/09: LAMOTH and MONA as destinations
Two 'new' (well, not exactly new; they've been around for awhile) field trip destinations just appeared on the destinations pages, and News & Announcements is as good a place as any to tell a bit more about them. Without further ado:
Museum of the Holocaust: The Museum of Tolerance may be bigger and better known, but getting to MOT from South or East Los Angeles can be pretty arduous, at least if traveling there by transit. Fortunately, teachers can consider the Los Angeles Museum of the Holocoast -- aka LAMOTH -- as an alternative.
It's small, but the rooms are thoughtfully laid out with hundreds of photographs and other artifacts related to the genocide of European Jews during World War II. Some of the photos are too strong for younger elementary school students, but LAMOTH can arrange guided tours that steer clear of these. The tours offer children a chance to meet a Holocaust survivor, and can include art activities related to the Holocaust; LAMOTH has some excellent examples of student-made art on display in their galleries.
Location: on Wilshire, just east of San Vicente. If you're wearing a sturdy pair of kicks, that's hiking distance from LACMA and the Page Museum. We've combined Page and LACMA visits in a single day's itinerary, and could include LAMOTH in a one-trip-two-venue itinerary as well.
Recommended for mid-Wilshire sites with sufficiently mature students. To be considered by schools more distant, particularly if you're already planning a trip to LACMA or the Page.
Museum of Neon Art: The present location at Fourth and Spring may be humbler than the long-lost site near Grand and Olympic, but there's a bright side: MONA is now much closer to the frequently-visited-by-TransitPeople Central Library and Wells Fargo History Museum. If you've finished riding the stagecoach or listening to childrens' stories, you can shepherd your charges this-a-way to learn about making art with electricity.
Expect special activities if your visit coincides with downtown's Art Walk, held on the second Thursday of the month. And no matter when you visit, MONA should be able to provide tours and educational activities just for kids.
---
4/15/09: Butterfly Pavilion ... and a new grant
They're back. Monarch butterflies, giant swallowtails, zebra longwings, California dogfaces ... forty, count them, forty butterfly and moth species, all available to be oohed and ahhed over in the Pavilion of Wings.
The Pavilion opened on April 13 and is slated to close on September 7. Look for a green, Quonset-hut shaped structure adjacent to the Natural History Museum's south lawn entrance. The butterflies live there.
We've already got a nice passel of teachers signed up for NHM trips in April, and most of these bookings-to-come include half-hour time slots among the mariposas.
An insider tip: a late in the day reservation is better. Like some celebs and club goers, the butterflies come out when the sun has been up for awhile.
The photo shows a first grader checking out a Pavilion dweller in 2008. Please note that he is being very good and not touching the butterfly, an admirable feat of restraint for a six year old. The NHM asks that butterflies be admired with eyes only.
* * * *
Boy, are we grateful! The David Bohnett Foundation has once again supported TransitPeople with a grant, as they did in 2003 and 2006.
You'll find us listed on the David Bohnett Fund for Los Angeles page, which supports local organizations that help better the civic and cultural lives of those who call the city home. Please be invited to scroll through the entries. We're in mighty fine company.
Thank you, David Bohnett Foundation!
---
4/10/09: Winning team member interviewed
By e-mail, anyway. Ana Haase-Reed is the victor's name, shown third from left in the shot below with compatriots from Danielle Howard's team. Ms. Howard's dynamic septet bested all rivals in the April 5 Transit Race, as has been noted in breathless news entries of the week just past.
No one expected the race to turn into a real, capital R r-a-c-e, like the L.A. Marathon or Tour de France or upcoming, IRS-sponsored, April 15 post office race for unhappy grown-ups ... but it was, and Ms. Haase-Reed can offer an eyewitness account.

Ana Haase-Reed, third from left
The reference to tweeting refers to a Twitter log. Yes, more photos!
TransitPeople hasn't figured out Twitter yet. Maybe soon.
Ms. Haase-Reed, the floor is yours:
* * * *
How soon did you realize that a competing team had joined you on the #81 bus? Feliciano's team members weren't wearing TransitPeople jerseys.

I didn't notice when they got on, as I was reading schedules, comparing rail timetables and tweeting about our impending victory. But from our team's position at the back of the bus (photo attached), the group of people in matching shirts glancing over at us and whispering didn't stay hidden for long. They seemed to be crossing their arms to hide what was printed on their shirts, which made them even more suspicious.


courtesy Ana Haase-Reed




According to Leslie Hiatt of Feliciano's team, one of your teammates looked over the blue team pretty carefully, then returned for a conference with your team in the back of the bus. After that, everyone in your team rose and took positions near the front. Did you think you'd have a better chance at making it to Heritage Square first if you left through the front door?

That was me. I headed up to the front of the bus to check on the street signs to see how close we were to the stop at Avenue 43. This is when Daniel stepped off the bus. But then he got back on in the front. I knew our stop was next -- so I told everyone to come up to the front, as we'd need to run as soon as we got off the bus, and if we exited from the front door we wouldn't have to go around other passengers getting off.





1st and 2nd place teams compare notes after the race

Leslie said that a couple on your team were successfully misled when Lupe of the blue team yelled 'turn left!' What were you thinking?

I don't recall hearing Lupe yell anything, but Richard and I, who were running in front, did pause for a moment after rounding the corner at Homer. I was surprised when I didn't see the entrance to the Square right away. And with Lupe so close behind I didn't want to go the wrong way. But we double checked our map and then continued running.
* * * *
Thank you, Ms. Haase-Reed! And now, with the busiest field trip months coming up, that's likely going to be about all about the transit race for awhile to come. We raised over $6,500, which was far more than expected from a first-ever event (transit race? a what?!?!) in a glacier cold economy, and had fun to boot.
Once more, with feeling, to everyone who contributed: thank you.
---
4/9/09: Dillon Ross Transit Race Photos ...
...(and an excellent passel of photos they are, too) are online. If you've anxiously awaited a visual chronicle of the trials and travails of Allison Yoh's team, your patience is hereby rewarded.
That's Allison with the Blackberry in the first few shots. The exceptionally photogenic child (even by our jaded standards): Allison's son Devin, who brandished a Rapid Bus model for most of the day.
For another look at Allison's team, with descriptive captions and lots of shots of Heritage Square buildings: the Cuadra's photo album. Thank you, Dillon, Ruth and Neil!
---
4/7/09: Race report on L.A. Streetsblog
Right here, with a lead photo familiar to most everyone who commutes here. How often we pass under those arches when en route to Olvera Street.
Okay, it was an upset. The Hancock Park team came in fifth. Please consider that everyone on that and every other team was nice enough to pitch in on a Sunday to help charity, when they might have slept in, watched Gilligan's Island, or parsed stats in an APTA ridership report.
It was Just Being There that mattered, and they were. Thank you.
---
4/6/09: It was Heritage Square!
The secret destination was Heritage Square, Danielle Howard's team won, and just about seventy people came, counting kid performers, parents, escorts, and transit racers. And photographer Mick Orlosky already has posted a fantastic photo set that includes shots of the about-to-be-described fight-to-the-finish between Danielle Howard's team in yellow and Feliciano Rodriguez' team in blue, with more photos slated to come soon from Dillon Ross.
Those are the essentials, and more shall be told about those essentials shortly.
But first, let's dial back the clock a few hours and zoom in on the exciting part: that fight-to-the-finish, as recounted by contestants Leslie Hiatt and Feliciano Rodriguez:

Danielle Howard's winning team
* * * *
Sunday, April 5.
A little after 10:30 a.m.
The northeast corner of Avenue 26 and Figueroa.
Feliciano Rodriguez and five teammates in matching blue Bell Gardens Elementary t-shirts are in high spirits as they await a northbound #81 for their second and final bus trip in the transit race. They made good time to Glendale and Colorado from their start at Glendale Central Park, and the #90 came right on time. They just might win.
The #81 arrives.
The doors open.
Already seated in the back of the bus: seven adults in bright yellow TransitPeople jerseys.
Competitors!
(Note: Please take a moment to look over Mick's photos before continuing. He was there!)
* * * *
The blue team sits near the middle of the bus. They huddle.
We're not wearing TransitPeople jerseys. Maybe they won't notice us.
This hope dies quickly.
Feliciano looks up as a yellow-jerseyed young woman steps past him to query the driver.
The woman pauses, as she returns to her yellow-jerseyed teammates.
With more than idle curiosity, she looks at Feliciano, and at Leslie, and the matching blue Bell Gardens Elementary t-shirts.

Lupe, center, and Leslie Hiatt, right
Feliciano and Leslie watch as she returns to the yellow team.
They watch as the yellow team rises as one, and moves past them to seats near the front door.
The bus reaches Figueroa and Avenue 41. A yellow team member steps off, is hollered back aboard by his companions. Too early!
The tension mounts.
The #81 reaches Figueroa and Avenue 43, two long blocks from the Homer Street Heritage Square entrance. The doors open.
The final sprint in the day's big race is on.
* * * *
Lupe, above, did his best to keep Feliciano's team in the contest. He kept up with the yellow team in the dash to the Heritage Square entrance, even successfully threw off a couple of yellow team members by yelling "Turn left!" as they reached Homer Street.
(A shrewd, shameless and nearly successful piece of misdirection. Lupe correctly turned right, and motioned for his teammates to follow.)
But, it was still no contest, and the photo of the Danielle Howard's yellow-jerseyed team that leads off this news entry will reveal why.
"All fitness types," observed Ms. Hiatt, a bit unhappily.
* * * *
At long last, after ninety-five days of silence, one of the most closely held secrets in Los Angeles can be revealed: the ultra hush-hush destination for today's Transit Race was:

Start of the show
Heritage Square. Los Angeles' one-of-a-kind museum-cum-graveyard for neglected mansions and historical structures of yesteryear, from the brilliant green 1887 Hale Mansion to the it-still-sounds-like-a-good-idea-constructionwise Octagon House. These News pages featured a quick report after our first visit in 2008, and our groups have visited regularly since.
(If you're up at three in the morning and see a stately old Queen Anne creaking along Wilshire at five miles per hour on the back of a truck, it's probably bound for Heritage Square. House moving must be done in the wee hours. Want to surprise the bank, jack up the foreclosed-upon family homestead and carry it off on the 405? Don't try it during rush hour.)
* * * *
The script read to team leaders at 10:00 a.m. Sunday morning:
The Transit Race destination is Heritage Square. The address is 3800 Homer Street, Los Angeles, 90031, in the Mount Washington area.

The Homer Street entrance is the race finish line. The entrance is south of the intersection of Homer Street and East Avenue 43, three blocks east of Figueroa.
Please note the use of the term 'race finish line.' Heritage Square does have a back entrance, and they used it as recently as three years ago for the larger-than-usual-crowds that visit during the Museums of Arroyo day. (A simply fantastic and enthusiastically recommended event, incidentally, although not one we've yet taken in with a TransitPeople group.)
But it has been closed to the general public (although not to school groups) for several years, and was closed to transit racers on April 5.
For straphangers, this makes a difference.
View Larger Map
Take a look at this map. (You might have to jiggle it around a bit with the mouse to get it to show the spots indicated. Or, you can click here to view a larger map, as long as you promise to come back right away.)
See Heritage Square, right next to the 110 freeway? And Homer Street? And do you see the little blue Google thingie indicating the Heritage Square rail station?
Of course you do. But what you might not see, 'less you look real close, is that no quick and easy road connects the Heritage Square rail station to Homer Street.
CalTrans hasn't put a crosswalk on the 110 freeway. You can ride the Gold Line to Heritage Square, but will need to budget some walking time in the itinerary: north on Carlota Boulevard, east on Avenue 43, and then south on Homer Street to the entrance.
* * * *
If, that is, you trek here via train.
If you ride the #81 -- one of the bus lines we use most frequently, along with the Wilshire #720 and Vermont #754 -- you can get off at Figueroa and Avenue 43 and practically skip over.
And that was the unintended trick today, which prompted the only before-the-event hint on this News page. Those that rode the Gold Line here lost about twenty minutes to the hike from the station. Those that rode the #81, as did Danielle Howard's team-in-yellow and Feliciano's group, traversed the transit-stop-to-Heritage-Square distance rapidamente.
* * * *
A few surprises:
• No one got seriously lost.
Most of today's team leaders were teachers who just wanted to help TransitPeople, and lack expert status in navigating the ins and outs of the city transit labyrinth. We booked the kids to stay at Heritage Square through 2:30, anticipating that at least a couple of teams would arrive significantly late.

Dancers perform
It didn't happen. All five teams were present and accounted for by 11:30. Please consider that the team leaders received the two paragraphs of instruction just once while standing close to traffic with cell phones to their ears, and then had to figure out how to get to wherever 3800 Homer Street was.
And all five managed just fine.
• The talent show wasn't silly.
Look at those costumes! Guadalupe Castillo rehearsed with the kids after school for two weeks, and the preparation work showed. They were fantastic! Under the able direction of teacher Sarah Marcus, the violin quintet sailed through their line-up of songs without a hitch. Erika Martinez' flag team came next, followed by two separate dance teams, and then the comedy face off between George and Anthony.
George is in fifth grade, and Anthony in fourth. For you non-teachers, that's usually ages nine through eleven. Could you step up in front of a microphone, face dozens of strangers and make like Henny Youngman? Not easy for an elementary schooler, but both did admirably.

The second troupe
* * * *
Expect more about the transit race in the days to come. Kim Martin couldn't make it, but you'll be the first to know once the shots are available from Dillon Ross.
For now, though, we must conclude with some well-warranted thank yous:
• Many at Heritage square pitched in to help this event happen, but a big, special thanks has to go first and foremost to Jessica Rivas. She has offered expert tours to our groups in the past, was immediately receptive to seeing Heritage Square serve as the secret destination, and rolled out the red carpet for TransitPeople from day one. We didn't furnish the mike, the chairs, or the stage: Jessica arranged all of it.
Equally high on the thanks list: a long list of teachers.
• Guadalupe Castillo. Twelve years is how long Mrs. Castillo has taught. Yes, it's one thing to be enthusiastic when you're new, but how about after you've clocked over a decade in the classroom, have a family and responsibilities and more? Mrs. Castillo still volunteered to accompany the kids on a Sunday, as well as rehearse with them after school for two weeks.
• In alphabetical order: Danielle Howard, Larry McKiernan, Feliciano Rodriguez. All veterans, all working teachers, and all willing to risk public humiliation by signing up to lead teams in a first-ever event. They did it for one reason, and one reason above all others: to help TransitPeople.

Larry McKiernan, right, and teammates
And! they were aided and abetted by many teachers who have traveled with us in years past. Teachers Yvonne Andrade, Araceli Caldera, Adam Cortez, Leslie Hiatt, Judy Jurado, Mayra Lavadenz, Adriana Rodriguez, Richard Rogers and Mirla Urzua all donated and raced with teams today.
And!
• Arianne Campbell. She's not a teacher yet, but if you look here and here and here, you'll see that she's slated to be a popular one once her studies are done. Arianne led all five teams in fund raising, and also dedicated some between class time for a trip to Hermosa Beach for a television interview with Time Warner Cable.
And finally:
• Allison Yoh. Several years ago, this nonprofit was pleasantly mystified by donations given in the name of Devin's birthday. It developed later that the gifts were in honor of Allison's young son, and that it was she who suggested TransitPeople as a beneficiary.
She happily accepted the invitation to lead one of the race teams, and fielded what was easily the largest team to compete today: the fifteen member crew that started from Hancock Park. If only you were back on the MTA board of directors, Allison! The transit world needs more like you.
• Mick Orlosky and Dillon Ross, for coming out to take pictures, and blogger journalist Damien Newton of L.A. Streetsblog.
• Everyone, absolutely everyone, who chipped in to join a team. (If you see your photo here and aren't named, please accept this web site's apologies!)
• And, most of all: our performers. Thanks, kids!
(Note: Click on any of the photos above to see a slideshow.)
---
3/31/09: Quintet to perform in Talent Show
They're twins. See? The two students in white, in the center. A vocal quintet including identical twins, just one more offering in the only-four-shopping-days away talent show ... which now hardly warrants the adjective 'silly,' given the all-star line-up of young prodigies set to debut during the performance.
This web site isn't sure what ballads these ladies plan to sing. Undoubtedly nice songs, catchy tunes you'll hum merrily under your breath for weeks afterward ... if, that is, you come to your senses, join a team, and thus forever assure yourself of a place among our city's straphanging elite.
Think of it as a chance to enter public transit Valhalla, without the necessity of being slain by a Viking beforehand.
* * * *
More race updates:
The team leaders have varying strategies on how best to lead their travel partners to glory, victory and a first place paper airplane on April 5.
• Allison Yoh -- certainly the race favorite, given her background and the squad of UCLA transitophiles signed up for her team -- plans to rely on a cell phone with internet access, good ol' 1-800-COMMUTE, three copies of the Metro system map, the transit knowledge of her travel partners and her own sense of direction.
• Arianne Campbell -- the fund raising leader, and a recent television star, thanks to her interview at the Hermosa Beach studio of Time Warner Cable -- will bring both a wi-fi equipped lap top and a cell phone with access to Google Maps.
• Veteran teacher and trip leader Larry McKiernan: transit maps, some guide books and hope. However, Larry is an especially congenial leader, and may have better than average luck in eliciting good advice from a fellow bus or train rider.
As for Danielle and Feliciano: you'll have to join their teams to find out. Their strategies remain a secret.
Yes, Allison Yoh is the race favorite -- but things happen whilst riding buses and trains, as all transit pass-wielding commuters know.
Buses break down.
Trains stall in tunnels.
And even especially knowledgeable riders make critical mistakes.
* * * *
And now, with that said: it's time for a real hint. Not a fake-a-roo hint about not going to Barstow.
A real one.
A carefully worded real one, for team leaders and team members thoughtful enough to check this corner of the Internet one last time before the big day.
Pay attention to the finish line.
Pay attention to where you need to go.
That's all.
On Sunday morning, volunteers will call team leaders with about sixty words of information about the race destination. They won't answer questions. Roughly sixty words, and that's all.
Please do pay attention to where you need to go.
---
3/28/09: Tom Shadyac to sponsor Race
We are thrilled! Star director Tom Shadyac has agreed to donate $5,000 to sponsor the Transit Race and Kids' Silly Talent Show, with $1,000 to go to each team.
The youngest writer ever to pen one liners for comedy legend Bob Hope, Tom went on to direct box office giants like Ace Ventura: Pet Detective, The Nutty Professor, Liar Liar, Patch Adams, Bruce Almighty and Evan Almighty.
Thank you, Mr. Shadyac, for supporting our fund raiser ... and big, special thanks to Jill Goularte, for helping to make this donation possible.
* * * *
Do you want to see the flag team above in action? Of course you want to see this flag team in action. That's why you can hardly restrain yourself even now from clicking over to the Transit Race page and signing up, despite the, er, noteworthy restraint that some of you have shown in the past.
Web site visitors, meet Erika Martinez' color guard flag team. Even as you read these words, the young ladies shown above are undoubtedly rehearsing (or at least dreaming about, if you're reading this after a typical little kids' bedtime) their flag spinning routine for the talent show.
Yes, you could click over to YouTube and yawn through a vid of the U.S. Join Service color guard, or some other also ran, but why?!, when you can see the real thing?
This page will offer at least one more Talent Show announcement in the days ahead. As the saying goes: stay tuned.
---
3/24/09: L.A. Streetsblog at Transit Race
Students of the Los Angeles transit scene should recognize the face below: Damien Newton, star blogger of L.A. Streets Blog, has signed up to cover the April 5 Transit Race.
Before journeying west to straphang and cycle in sunny Southern California, Damien served as the New Jersey coordinator for the Tri-State Transportation campaign. If you're on his team, take a wrong turn and wind up on the 460 to Disneyland1, you'll have a transit celebrity to chat with while trying to figure out how to navigate the monorail back to L.A.
1 Disneyland is also not the Secret Destination. A nice place, yes, but we're not going there on April 5.
---
3/22/09: Comedy Contest at Talent Show
Meet Anthony. He's a fifth grader, an admirer of Jerry Seinfeld, and a fan of a televised monstrosity called Wrestlemania, which he's willing to miss on April 5 to perform in our Kids' Silly Talent Show.
The photo montage below depicts a fraction, only a fraction, of the many moods this future comedy legend will offer onstage. No comedian wants to see his entire act published online, but Anthony generously agreed to share a couple of the money-in-the-bank laugh getters he'll unleash on delighted audience members on April 5:
Knock knock.

Who's there?

Tennis.

Tennis who?

Tennessee.
Recovered yet? Caught your breath?
Here's another gut buster:
Knock knock.

Who's there?

Not you.
Get it?! Not you?!?! Oh, ho ho ho ho ...
So formidable is this young Cosby's comic prowess that not one of the more than one thousand children at his school was willing to step forward to swap japes, jests, zingers and one-liners with Anthony on the big day.
Until, that is, last Friday.
At left, above1: elementary superstar George, also a fifth grader, shown hamming it up for the camera during a field trip last year. George, who hopes to become a comedian as an adult and now looks to funnyman George Lopez for inspiration, fearlessly agreed to trade jokes with Anthony at the Talent Show, even at the price of missing Wrestlemania.
And that's not all! This web site will offer more photos of the star performers in the days ahead, as the big event draws closer. Stay tuned ... or, just sign up for a team, and be guaranteed of a ringside seat.
1 Note: this photo has been carefully altered in a professional grade pixel editor to remove A Clue. Not to be intentionally mysterious or anything. But A Clue has been removed.
Not necessarily a destination clue. But A Clue nonetheless.
You're In The Know now. Consider yourself informed.
---
3/14/09: Photographers at Transit Race
Three, count them, three local photographers have volunteered to shoot our transit race teams in action.
View high resolution photos of frustrated race teams trying to log on to good ol' Trip Planner with wifi connections. See expertly sharpened images of team leaders at the moment they realize they boarded the wrong bus or train, and are bound for gas station row in Barstow. Witness the ecstasy of the winning team accepting first place paper airplanes.
All this and more shall be yours, thanks to the service of these three. Kim, Mick and Dillon, what limelight TransitPeople can offer is now yours:
* * * *
Kim Martin: Author, pre-school teacher and photographer Kim Martin has some excellent shots in the latest issue of Parenting Orange County ... and, like Mick Orlosky and Dillon Ross, is a regular contributor to the nearly 5,000 member strong Los Angeles photo pool on Flickr.
Please see this link for some lovely photos from Descanso Gardens (which we might like to visit some day, too, leastways if the La Canada town fathers ever add sidewalks to the streets we'd have to walk to reach the main entrance).
* * * *
Mick Orlosky: According to an online interview with a compatriot from PhotoPhlow, Mick is a digital media product manager who became a photography aficionado after acquiring a first-ever digital camera before a trip to Alaska. Take a look at this shot, which Mick snapped without looking with the camera behind his back. More memorable Valley shots are in his San Fernando Valley set on Flickr.
(Unrelated to TransitPeople though it may be, it simply must be mentioned that Mick is a patron of Harry Fleenor and the legendary Oceanside Camera Repair, the Rolleiflex lover's local home away from home here.
* * * *
Dillon Ross: Like Kim, Dillon is a teacher ... and a former city planner, which makes him an especially ideal choice to serve as a lens person for an event sponsored by TransitPeople. (Dillon, you just might recognize some former colleagues during this event.)
Dillon's Flickr gallery of Los Angeles shots is here ... and teachers far and wide will be amused by the photo taken after a static electricity experiment with balloons.
* * * *
Kim, Mick and Dillon, please accept our gratitude ... and if you (or anyone else) knows of a crack video crew, or two, or three that would like to cover the event, please don't feel shy about telling TransitPeople. We still don't have a thumbs up from a moving pictures maker. Perhaps soon.
---
3/8/09: Violinists to perform at Talent Show
With fewer than thirty days remaining before the big transit race, it's high time to introduce one of the all-star acts that will be on hand to entertain courageous race contestants on the big day.
Please take a moment to gaze at the three young virtuosos shown below.
If you sign up for one of the arch-rival race teams, and if your team doesn't get hopelessly lost and wind up slogging through the mud somewhere near Terminal Island -- which is not the super duper top secret destination, one of only two hints that you'll receive in this posting -- you can look forward to being serenaded by the three master violinists shown here. They hail from an after-school class taught by LAUSD teacher Sarah Marcus, formerly a violinist with the University of Virginia symphony.
To obtain violins for the second and fourth graders participating in her class, Ms. Marcus contacted Hungry for Music, a Washington D.C. nonprofit that donates instruments for deserving kids nationwide. She leads the class once a week, as a volunteer, after her regular elementary school teaching duties in South Los Angeles.
The children shown probably won't be ready to play Twinkle, Twinkle, Little Star by April 5, but probably will be ready to serenade transit race participants with Lightly, Row and the venerable Slavic folk song, Morning Dance.
Better still: they just might be persuaded to offer an autograph or two after the big show, in pen, pencil, or crayon, as race contestants see fit. This is a once in a lifetime opportunity to nab the John Hancock of a second grade Perlman, Stern or Zimbalist to be, available only to race contestants. So sign up for a team today, or spend the rest of your life bitterly ruing the lost opportunity.
---
• If you browse the Transit Race team leader pages, you'll see that Arianne Campbell's team is ever so slightly ahead of her rivals in terms of fundraising. It thus seems only fitting that the ace reporters of Time Warner Cable have scheduled Arianne for a March 13 studio interview to chat about her volunteer service with TransitPeople, her courageous team leadership in the transit race, and how she feels about maybe winding up at the Oxnard Greyhound station on April 5.
(The Oxnard Greyhound station is also not the secret race destination. TransitPeople has promised that the destination will be a Nice Place. The Oxnard Greyhound station is not a Nice Place. That's the second hint.)
Arianne last starred in front of the TWC cameras in 2006, when Ben McCain interviewed her during a TransitPeople trip to the zoo. She has since qualified as a trip leader, and an exceptionally popular trip leader, too, as the testimonials pages will attest.
This web site could reveal the studio location for her March 13 interview, but that would open the door to hordes of paparazzi, undoubtedly sick of pointing their strobes at yawner celebs like Britney and Lindsay and Paris. However, paparazzi and all interested others are invited to tune in to CNN Headline News, when Arianne's interview is scheduled to air on March 27, 28 and 29.
• Url Minder users and hobbyist proofreaders may have noticed that the Can I start my own team? section has vanished from the 'Infrequently Asked Questions' section of the main Transit Race page. For a reason: it's March 8, and the race is only twenty-eight days away. Our teams are set!
---
2/19/09: Two Transit Race Changes
• Allison Yoh's team will start in Hancock Park. Not in the area of the big dig for the new LACMA parking lot, as we don't want to trip over any of the fossils recently discovered there and perhaps incite the wrath of Zed, the Colombian mammoth. In the general area of Hancock Park, a safe distance from Zed.
(Quite a name for a mammoth, eh? Zed. Say it aloud a couple of times. Zed. Just kind of stumbles down the tongue and sits there.)
• Danielle Howard's team will start in the Exposition Park area. Maybe right in the park, or on Vermont, or on Figueroa, or in the Coliseum. Our lips are sealed. Sign up for her team and you'll be one of the first to know, two days before the big race day.
Danielle's team might even start right in front of the Tommy the Trojan statue, which would be only fitting, as Ms. Howard is a USC graduate and USCers risk bringing everlasting shame and disgrace to the hallowed cardinal red and gold if they don't people her team with straphanging Trojans. (Not that this web site ever would lobby a point or appear other than completely impartial.)
• We've made the press! You'll find an entry about the transit race by Damien Newton on Streetsblog L.A., and a post by Siel at Green L.A. Girl. We might get to be on television soon, but this isn't certain yet. Stay tuned.Get it? On television? Stay tuned. Oh, ho ho ho.
• Current team totals will go live late next week. As of today, we've already pulled in more money than anticipated for this stage of a first-ever event, but fewer sign-ups. This may invite the conclusion that:
→ Grown-ups regard TransitPeople as a worthy charity, and want to support it.

→ Grown-ups do not trust the team leaders not to get hopelessly lost.
We-elll, do you think Tommy the Trojan or Joe Bruin would be afraid of getting lost, if they could come to life and go barreling down the streets here? Of course not! Tommy would jump right off the pedestal and go charging out to the #81 stop, and Joe Bruin would do no less, even if hindered by his understandably great girth. Come on, Angelenos! Don't be upstaged by the conjectured enthusiasm of a couple of inanimate objects. Sign up!
---
2/8/09: Transit Race Announcements
A few short announcements about the transit race:
• The main transit race page has been amended to include starting locations of the five team leaders. Hollywood is a bit of a long haul from Pasadena, especially for those who get around here by bus and rail. Apologies for omitting this information when the page first went up.
• Not everyone feels comfortable donating by PayPal -- even though you do not need to join PayPal to use one of the donate links, just to be a stickler about it -- so the sign-in pages now include a link to an old-tech, print-and-postal-mail donation form. Feel free to use it instead, if you prefer.
(In fact, feel free to send us money just about any ol' way you like. Horse, buggy, bills-in-the-suitcase. See if we care.)
You will need to provide an e-mail address, so you can receive your transit race graphic and race instructions ... and, of course, so we can reap income by selling your contact information to Russian spam networks. (No, now, just a joke ... )
And finally, for those in need of a smile to start the week: let's wish a collective Happy Birthday to the young gentleman shown above. He turned six on the day of his aquarium outing, and asked to have his photo taken.
This was the pose and facial expression he offered, which varied little for five shots in a row.
Honestly, he had a good time at the Aquarium, and enjoyed himself throughout the trip. This was probably just a first try at method acting.
---
2/6/09: Honorary Board of Directors
More than ten years have come and gone since our first-ever zoo trip aboard the 96, and more than 25,000 children – that's three zeros, no typo – have traveled with us since. Without some awfully dedicated volunteers, none of it would have been possible.
At our annual meeting just past, we established a long-overdue entity to thank some of these folks in public: an honorary board of directors. Honorary, yes, but every name listed below once served on our official corporate board, before other responsibilities or other locales lured them away.
In alphabetical order:
Sean Bloch: Sean first traveled with us in 2002, qualified as a trip leader in 2003, and has made lots of kids and teachers happy in the trips he's led since then. If you sign up for a weekend trip today, you just might see him: he's still trip leading today!
Suzanne Gentry: The last name was Gordon when teachers sung Suzanne's praises in the early part of this decade. Suzanne still volunteers with children today ... but, unfortunately (for Californians, anyway), her volunteering is in Nashville.
Jill Goularte: Take a look at the eval here, and you'll get a hint of why Jill was regarded as one of the best-prepared trip leaders. She once spent an evening at Kinko's before a weekend trip, just to be sure the students would get the most out of their Aquarium visit. Jill also was instrumental in arranging several important donations to our cause.
Amy Sheren: Los Angeles' loss was Chicago's gain. Amy still volunteers today, but the lucky recipients of her largesse are associated with OneBrick in the Windy City. She's even got her own page with them.
Joe Wilder: Joe recently accompanied a group of kids to the planetarium, but it was at the planetarium in the Imaloa Astronomy Center, and not the Observatory here. His service with TransitPeople led to a career change for Joe. A former computing professional, he now works with students in Hawaii.
Sean, Suzanne, Jill, Amy and Joe: thank you many times over for all you've done for us. At our annual meeting, newly elected TransitPeople chair Rod Blagojevich sounded especially emotional while recounting your service in our formative years.
(No, no, just a joke! No Blago for TransitPeople. See the link. Really. )
(An aside to Anselmo, Sam, Anthony and Michael: if you see this and would like to be listed, please write.)
---
In other news:
NHM Bug Fair: is set for May 16 and 17. We don't always get a sign-up for this event, but it's popular, perfectly suited for elementary schoolers, and richly warrants a listing here.
As you'll see from the link, the NHM once again urges Bug Fair patrons to bring in spiders for the Urban Spider Survey.
TransitPeople, in turn, urges teachers to be sure that kids not do any such thing. Please. Live spiders crawling out of little kid hiding places into the coiffures of unsuspecting fellow passengers does not make for diplomatic field trip travel aboard the 81, 754 or 711.
* * * *
And speaking of the 711: Metro has posted its list of proposed service changes for June, and weekend service aboard this east-west Florence Rapid Bus is in danger of The Axe. This would be a fine hullabaloo for classes from Laguna Nueva, Garfield and Bell Gardens, which frequently board this line for TransitPeople trips. The weekend 711 is one of the busiest bus lines we ride regularly, so serious consideration of cuts here are surprising.
Also on the list: the 256, the easiest transit route to Debs Audubon for Farmdale and Sierra Park (although we usually trek to Debs from the Gold Line), and the south-of-Artesia-station 444, which provides the one practical transit route to the South Coast Botanic Gardens.
The rest of the changes wouldn't impact us much, but they might impact you, so have a look.
---
1/28/09: Transit Race set for April 5
We've got a date! Expect a faint, momentous trembling to penetrate Southern California urbs, suburbs and exurbs alike on Sunday, April 5 – not from the aftershocks of the long-dreaded Big One (or so we all hope), but from the debut of the first ever TransitPeople Transit Race and Kids' Silly Talent show.
Contestant Denisse Castillo has bowed out (prior commitment; these things happen), but we've got three, count them, three new contestants, including a celebrity!!, all confident of besting their arch rivals and winning first place paper airplanes for their teammates, instead of meager, second place fold-up fortune cookies.
Their sign-up pages include extensive, deadly serious biographical material, but it can't hurt to introduce them separately here. In alphabetical order:
Arianne Campbell: A teacher-to-be and a hugely popular TransitPeople trip leader, as some of the glowing recommendations on our testimonials page will indicate. Arianne first volunteered for us way back in 2002, and became a trip leader in 2007.
Arianne's sign in page? Right here. Arianne is guaranteed to win, at least if one of the other four team leaders doesn't.
* * * *
Danielle Howard: Nationally board certified teacher Danielle Howard qualified as a trip leader in 2008, and set up a one-of-a-kind Science Center Body Worlds trip last year for her students at Norwood Elementary. Accompanying her fifth grade class that day: a surgeon and a psychiatrist, who attracted a small crowd at the exhibit as they explained the body's workings as only an M.D. can.
Click here for Danielle's sign in page. Alas, no crew of medical professionals is expected to accompany her on the transit race ... so if you think you may have a heart attack while "racing," be sure to bring along an airtight will. (With all worldly possessions bequeathed, of course, to this non-profit.)
* * * *
Larry McKiernan: A veteran! Laguna Nueva super teacher Larry McKiernan completed nine weekend trips for his lucky students in 2005, and has since qualified to lead trips on his own. He has taken his hardy, City of Commerce middle schoolers on some unusually long outings, including one to UCLA. City of Commerce to UCLA: look that one up on the trip planner.
Click here for Larry's sign in page. If his team gets lost, well, you just might get to go on a long trip with Larry, too!
* * * *
Feliciano Rodriguez: This is going to be a team effort. Feliciano teaches at Bell Gardens Elementary, and a whole crew of fellow staff members and friends-of-the-campus plan to join him for his big race effort.
Bell Gardens' school mascot is the unicorn, and BGErs undoubtedly hope that the good fortune sometimes associated with this mythological beast will be with them on the big day. Any prize less lofty than a genuine handmade paper airplane simply won't do.
Feliciano's sign-in page? Right here. Bell Gardens, the spotlight is yours.
* * * *
Allison Yoh: Our celebrity contestant! True, Allison usually can ride through Westwood without being assailed by hordes of paparazzi, but in public transit circles, she's very much the real McCoy.
Former mayor James Hahn appointed Allison to the MTA board of directors in 2001, partly to appease those who felt that a real, day-to-day transit rider should have a say in decision making. Today, Allison is a Ph.D. student in UCLA's Department of Urban Planning, and an author for the renowned Rand Corporation think tank.
Allison's sign in page is here. She's likelier to know her way around the city's transit labyrinth than are the day's other contestants, but anything could happen on the day of the transit race.
* * * *
The transit race destination still remains a top secret. (Katie, Brian, Charles: call all you like, it won't do a bit of good.) The teams will begin Somewhere in Glendale, Somewhere in the Wilshire District, Somewhere in Echo Park, good ol' Somewhere in Hollywood, and Somewhere in Pasadena.
Get out a big map, plot those starting points on it and you just might get a teensy-weensy clue of where everyone's going, but it won't be much of one. The team leaders don't know, and can only have faith that they aren't being sent off to count gas stations in Barstow.
That's it for now. You've got a date. The links are live. Join a team! Race for a day! Donate! Five bucks minimum. It won't kill you. The economy's not that bad. Maybe if you SAVED MONEY by not eating those gross fries when you're feeling down. C'mon. Be a pal. You'll have fun.
---
In other news:
• Hansel & Gretel Returns: How many of you hankered to take your class to Hansel & Gretel, after reading the related entry on last year's News & Announcements page, and felt blue that the dates for the show had come and gone?
Well, this is your chance. The Stella Adler's cheery, modernized, geared-for-kids version of this classic will return to their Hollywood & Highland theater this February, with shows now scheduled for:
Monday, February 9
Wednesday, February 11
Friday, February 13
Monday, February 16
Wednesday, February 18
Friday, February 20
Monday, February 23
Wednesday, February 25
Friday, February 27
Please don't just show up on one of these dates and bang on the Stella Adler's front door, but, if interested, please do contact the Stella Adler: (323) 465-4446, and ask for Rochelle Rossman. Tell her you're interested in Hansel & Gretel, and she'll do the rest. The show is free, but they can't provide transportation to see it. Remember, we traveled there by subway.
Can TransitPeople take everyone who's reading this to see the show? Only if several current trip leaders quarrel bitterly with their bosses and get fired before February 9. (Which we sorta hope won't happen.) Feel free to send in a request, but weekday trip leaders are in short supply. Such is life. We're volunteers.
• Crime Scene Investigation: comes to the Science Center. Beginning January 31, only a few days hence. This link tells the story. You'll find the exhibit in the Weingart special exhibits gallery, across from the Transportation gallery on the top floor.
True, we haven't been and can't vouch for it, but how wrong can you go? Even if the exhibit were a dud – very, very unlikely at the Science Center; it would be the first 'dud' there ever, in our experience – your group would have three all-star, year-round galleries to visit.
• Dibner Hall of Science: is open at the Huntington.
This is frustrating.
Not because it's not a good exhibit. It's a superb exhibit. Maybe a bit of a stretch for primary kids, but for upper graders, consider: four separate galleries in one, exploring the history of Astronomy, Natural History, Medicine and Light. You could spend hours in the Dibner Hall alone.
What's frustrating is that the Dibner Hall combined with the Huntington's also-new Conservatory have transformed this San Marino site one of the premier educational destinations for kids in the Los Angeles area. And for us, it's a difficult one to visit. You can ride the rails here, but, as noted in last year's News & Announcements, that's going to require a forty-five minute walk from and to the Allen station. Or you can hop aboard the good ol' 79, for a long trip from downtown.
For a weekend trip, this is well worth doing. You're going to be tired the next day and so will the kids (and trip leader), but it ought to be worth it.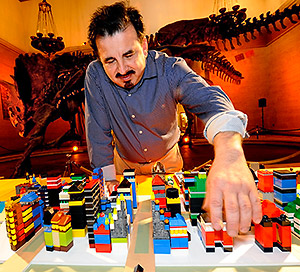 • Sustainable Sundays: That's James Rojas of MTA in the shot above, participating in the Sustainable Sunday just concluded at the Natural History Museum. Sustainable Sundays are now a regular offering at the NHM, and are one more reason to book a trip here for a weekend.
Look for James when he returns to the Natural History Museum on March 29 to make a model of the Los Angeles River.
---
1/1/09: Year Eleven Begins
First, of course, Happy New Year! The grown-ups next door to you might have behaved badly last night, but this web site spent the notoriously festive eve just past on only the most wholesome activities –-- memorizing Latin roots, parsing verbs and, of course, correcting homework --- and thus is in fine, bright-eyed shape to post on the very first day of the new annum.
And we have quite a bit of news, so adjust the contrast, scrunch just a bit closer to the display and continue.
---
• Transit Race and Talent Show:
Recognize the photo below? It appeared on the home page 'photo of the day' on or about Thanksgiving, with the cryptic hint that more of its reason for being would be revealed 'real soon now.'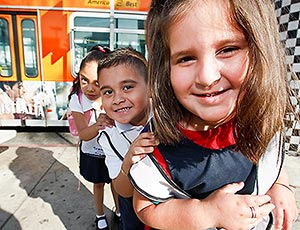 We-ell, 'real soon now' has come ... or, at least, has swung close enough to the horizon to permit details to be glimpsed and chatted about sociably.
Think of what follows as a kind of sneak preview. We don't have a date yet. Many of the details of this event are on the Precambrian side, in terms of development. Things could change! But: the concept is in place, anyway, and the world may now be informed that sometime in the next few months we will sponsor the first ever TransitPeople:
Transit Race &
Kids' Silly Talent Show
Never heard of a transit race? Well, neither has any one else, but why should that stop us? A draft web page describing the project is here, with photos of the three brave martyrs dedicated supporters of charity who have signed up so far to lead teams.
The concept, in a nutshell: competing teams of grown-ups use public transit trains and buses to "race" to a top secret destination, at which they will be serenaded by awaiting elementary schoolers, and invited to judge a kids' silly talent contest.
Think fundraiser. A fun fundraiser. Maybe we won't match the big AIG bailout the first time out, but we're likely to have a good time and set a good precedent for the future. (Next year we'll match the AIG bailout. You just wait.)
The 'click here to join the team' links on the site linked above won't be live until we have a definite date, but if you're sure you want to sign up anyway (even though it may just be on the single least convenient Saturday or Sunday for you in all of 2009, although it will be on a weekend, as this isn't a school day type of event), feel free to fire off an e-mail.
Or, hey, e-mail if you think you're up to leading a team, and aren't a lobbyist or Mafioso or friend of that Blagojevich guy. TransitPeople gets web traffic from around the world. Don't you want strangers in Australia and Canada and England to know about you? Lead a team and they will.
The race destination is top secret. The FBI doesn't know. The CIA doesn't know. E-mails related to the transit race are specially encoded to foil the global snoops at DCSNet and Echelon. However, president-elect Barack Obama may make a coded reference to the race destination in his inaugural address.
Stay tuned! More to come. (A date, for instance. March? April? We just don't know. Think sneak preview. That's what you're getting today.)
---
Other start of the year news:
• New Participation Record: 4,476 children is the number, narrowly surpassing the 4,259 we chaperoned in 2007. We're almost, but not quite, up to 25,000 kids total since that long-ago first zoo trip in 1999.
• TransitPeople Endowment Fund: A nice wallop of stock shares, all ours, promptly sold and invested in a super-safe money market account. (As opposed to sold and invested in the casino next to the Artesia station.) Boy, is it good to have this special, one time donation in today's gloomy economy, courtesy of the generous family of TransitPeople founder Tim Adams.
'Endowment' means that we'll spend the interest income, but not the principal. (Unless we were to go broke, of course, but we all hope that doesn't happen, now, don't we?) A safety margin. We can and will raise money in the future, but the markets aren't likely to do any gleeful jetés this year, and that means hard times for nonprofits. Kids, teachers and schools depend on TransitPeople. This fund insures that we won't let them down.
(And a quick by-the-way for the better-heeled among you: no law prevents TransitPeople from augmenting this endowment fund, or establishing others. If you're pals with a Gates or a Buffett, please don't hesitate to mention this .org while you're out on the yacht. We won't mind a bit. Maybe we'll even help push the boat.)
• A big thank you: to foundation donors that supported TransitPeople in 2008: the Lark Ellen Lions, for the tenth time (!), the Pergo Foundation, for the third time, and a pair of first ever grants from two brand new contributors: the J.B. and Emily Van Nuys Charities, and the Sherry Jackson Foundation. On behalf of all the kids, teachers and schools we serve: thank you, thank you, for helping to make our travels possible.
---
And finally, two discontinuations:
• The bimonthly posting of special event weekend trips is no longer. A look at the stats pages will tell why. From 1999 through 2001,we were a weekend only program, and visited special events more frequently. We now conduct most of our field trips on weekdays to venues that offer strong educational value year round: the Aquarium, the Central Library, the Natural History Museum, the Science Center, and so on.
Fortunately, parents who checked the announcements pages for family-oriented trip ideas can turn to many other online resources. The Los Angeles Times, L.A. Weekly and Downtown News all host online calendars, and the Department of Cultural Affairs publishes a yearly guide to Southern California festivals. (The 2009 festival guide is here.)
• Exit the TransitPeople Field Trip 'Photo of the Day' Google Gadget. It made the Google Gadgets directory, but didn't attract enough online eyeballs to warrant the bother of maintaining it. The home page photo of the day lives on.
---